Listing Presentation
3 Bedrooms + 2.5 Baths | 1,907 Sq Ft
A three-bedroom floor plan, the Twanoh perfects the art of main-floor living! You will find the primary suite, kitchen, dining, and living areas, plus a den, dedicated laundry room, and an additional one-half bath, all on the first floor. (Photos for representational purpose only.)
The home has standard finishes, including quartz or granite countertops, textural tuft-style carpet in the bedrooms, fully tiled bathroom floors, and an interior fireplace. There is still time to customize selections and include upgrades--but hurry!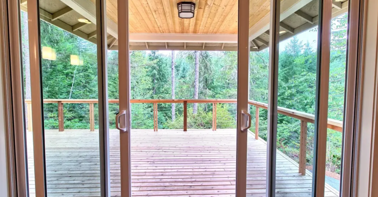 Covered Patio + Bonus Landscaping Package
Enjoy nature year-round, plus the landscaping package with perimeter trees and fencing panels.
Cozy Nook Upstairs
A perfect space to dedicate to crafting, work, reading, or just relaxing!
Kitchen & Dining Area
Entertaining is a breeze in this home with its flowing floor plan!
Primary Bedroom Bonus!
Until November 30, upgrade to laminate flooring in the primary bedroom.
Twanoh Floor Plan Virtual Tour
This video you will take a virtual tour of a previously completed Twanoh home so you can see some of its beautiful features!
Area for work-from-home, crafts, or a cozy reading spot!
Flowing floor plan makes for easy living and entertaining
Skylights bring a light and airy feel to the home
Covered outdoor patio - use it year round!
Meet Emily Reed, Community Sales Manager for Alderbrook Properties. Emily works with you throughout the entire process of your house acquisition.
She will collaborate with you to select materials and upgrades for your home. These include interior and exterior paint colors, flooring, tile, hardware, lighting and plumbing fixtures, and more!
Emily is passionate about providing personal attention to make the transition to your new home a positive experience. She also knows it can be challenging to determine how your existing furnishings will fit into your new living space. With a degree in Architectural Drafting and Design, Emily has the expertise to help you with the placement of furnishings in your new homes.
When you buy your new Alderbrook Properties home, Emily will spend up to two dedicated hours with you to plan where your existing furniture will fit, provide insight into what you might want to add and suggest window treatments to highlight the natural setting of your home.
"When it comes to helping you make design decisions, I can be as hands-on or -off as you prefer. If you have a vision for your home's design, I can provide suggested options, or if you prefer, I can create the entire design from scratch for your consideration," says Emily.
Since Emily knows these homes inside and out, she can help you bring your dream home to life!
Location & Streetview
This lovely Twanoh is on a compact, low-maintenance lot and conveniently located near community amenities!
See the location in the community on the map at the top, and then explore the area in the photo below.
Timmie and I love our new home! We cannot wait to get in there full-time. We just wanted to let you know how fabulous everybody has been, especially Emily throughout the process and Mike since the building has begun. His help has been so very much appreciated. Everybody we have dealt with so far has been aces! Again, we cannot thank you folks enough. We are over the moon! Rich & Timmie Paris
We want to thank you so much for all your hard work and efforts to get us into our new Alderbrook home. WE LOVE IT HERE!! We are both loving the house, the neighborhood and all the people we have met so far. We are so very glad to be part of this community. Thank you again! James Moore & Sue Donaghy
Emily, you have been so wonderful and made this process so enjoyable. You have kept me posted at every turn, and it has been an amazing experience! You have been so kind and have made this process so enjoyable. I can't thank you enough! The house is beautiful, and I absolutely love it! Wendy Lind
Learn more about
this Pacific Northwest Paradise
In the photos above, you can also see the beautiful hiking trails, and abundance of flowers and greenery surrounding the area!
It's easy to access the various amenities in our community, and the Wickiup is a central gathering spot. The sign above shows many of the activities. The tennis courts also do double duty as pickleball courts!
Unlimited golf for owners!
Available on or off the golf course, all Alderbrook Properties homes are in convenient proximity to the Alderbrook Golf Course and Clubhouse. In addition, there are reciprocal memberships with other golf clubs included!
This award-winning golf course boasts magnificent views and challenges for golfers, including a double-dogleg 8th hole. There are approximately 100 acres of professionally-maintained golf course and common areas in the community.
There are so many ways to stay active. Hike the trails in the Alderbrook community or explore the nearby Olympic National Park. Enjoy Hood Canal itself with kayaking, paddleboarding, fishing, crabbing...the list goes on!
Interesting stores, salons, spas and more are just at your fingertips! Treat yourself to a salon trip, stop for a latte, and enjoy lunch - all just a few steps away!
This world-class resort is just a stone's throw from the Alderbrook community. Mason County residents enjoy special discounts on food, spa services, and more!
Visit Our Pacific Northwest Paradise!
871 E Beach Drive, Union, WA 98592
Not intended to solicit Sellers or Buyers currently under written contract with another Realtor®.